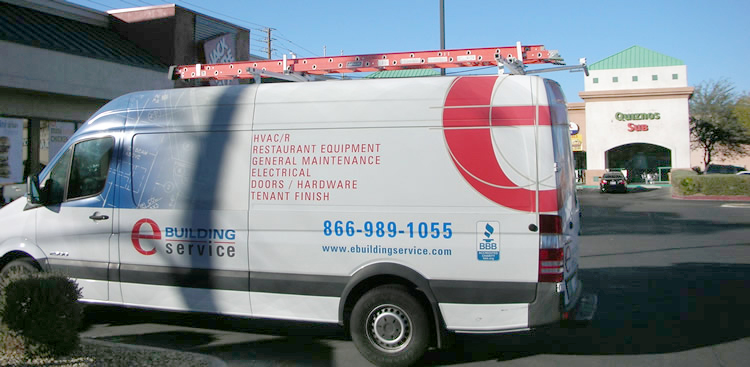 eBuildingService


Next-Generation Property Maintenance & Construction Services


For Commercial Properties and Restaurants

Prepare to Be Impressed

eBuildingService provides repair, maintenance, remodel and construction services to owners, property managers, tenants, restaurants, restaurant chains, retail stores, government, convenience stores, gas stations in retail, industrial, office, free-standing, and multi-family properties throughout metro Denver, Colorado Springs, Northern Colorado (including Greeley & Ft. Collins) Colorado. We've created a whole new way of handling service calls where one call truly does it all – and that's not just a slogan.

Our commercial property, restaurant and government clients can hardly believe the convenience of one company that can take care of everything – from plumbing to electrical to drywall to roofing to restaurant equipment repairs to glass repairs to HVAC/R, etc. Your days of making multiple calls and tracking multiple contractors for building repair and maintenance are over!
Try us just once and you'll never go back to the old way of doing things.

"I am writing this note to communicate my satisfaction with your team the skill, quality and professionalism with which the work is performed is extremely important to a commercial property management company. It has been a pleasure doing business with E Building Service."

Don Palik, RPA - Senior Property Manager - Panorama Property Management

Services

Our services include HVAC/R, tenant finish, restaurant repairs, heating repairs, air conditioning repairs, refrigeration, and preventative maintenance, plus interior and exterior general maintenance from plumbing and electrical to landscape services, locks, roofing, and everything in between. We offer "one call does it all" or "as-needed" building maintenance and repair with astonishing responsiveness, impressive efficiency, and remarkably reliable follow-up using 24-hour state-of-the-art communication systems.

Say Good-Bye to Property Maintenance Headaches

Property Managers and Building Owners, Tenants and Restaurant Operators face common maintenance issues such as:


The heat or air conditioning isn't working, or the oven, fryer, steam table or walk-in cooler is down and you need an HVAC/R repair person NOW!
The walk-in freezer or oven or plumbing or electrical or rooftop chiller or flooring in your restaurant needs repair or maintenance -- and if one company could do it all, it would be a dream come true.
A security issue at the property requires that the locks be changed immediately – even though it's 10:00 o'clock at night.
Tenant finish or restaurant remodeling is needed, but you don't want to pay an arm and a leg to a tenant finish contractor.
The exhaust fans are down and as a restaurant manager with a drive thru lane full, you need it fixed NOW..
You need a general maintenance and repair service that can handle more than one specialty at a time.
Instead of hearing "Sorry, we don't handle that" you'd like a maintenance service to be able to fix the roof, AND clean up from the leak AND steam clean the carpet AND be able to patch and paint the affected drywall, AND fix plumbing, AND change the locks, AND HVAC, refrigeration and electrical, AND repair restaurant fixtures and equipment -- all with one phone call.

No matter what your building maintenance problem – whether HVAC, refrigeration, commercial heating repair, commercial air conditioning repair, restaurant repairs, refrigeration & preventative maintenance, tenant finish and construction, or general maintenance – you need immediate responsiveness, 100% reliability, work order tracking, flawless follow-up and a service you can trust to be there when they say they will –and someone who will do the work right the first time, and charge you a fair price.


eBuildingService delivers all this and MORE!

Next-Generation Property Services

Whether you are a property owner. property manager, developer landlord, tenant or restaurant owner, manager or operator in Denver, Greeley, Ft. Collins, Colorado Springs, Colorado, eBuilding Service can solve all your specific and general maintenance needs. And now we've expanded to provide our full menu of property services -- including HVAC, refrigeration, restaurant equipment repair and general maintenance. Our amazingly innovative web-based property services model uses state of the art technology and communication systems to keep you completely up to date and up to the minute, in real time – as to the status and outcome of your service call. You can even order work online.

Track your project status 24 hours a day, by phone, by e-mail, by mobile device, or online. Our systems and responsiveness will impress the heck out of you, your tenants, and your restaurant managers -- and will magically solve your maintenance, repair and property management headaches.

Your Source for Complete Property Maintenance Services, Tenant Finish and Repair
in Metro Denver, Colorado Springs, Greeley and Fort Collins, Colorado


Click here to sign up Today!
-or-
Call Us Today to Find Out More or To Give Us A Try

866.989.1055

eBuildingService is a proud member of the following organizations:
---

Interact with eBuilding Service through a variety of online mediums.